As action researchers our approach is appreciative, collaborative, experiential and future-focused.  We undertake our work with people, not on them, or for them.
Action research is a large 'extended family' of approaches to inquiry that includes appreciative inquiry, action learning, action inquiry, participatory research, systemic action research and design methodologies.  Such 'action inquiry' is about helping others to ask good questions, and crucially, to keep doing so, to deal with the ever changing and complex situations in which we find ourselves.
We provide a range of support to build the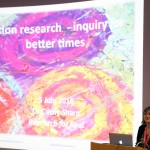 confidence and capacity of people to develop inquiry as a process of 'learning in action' to sustain and improve on the best of the work they are already engaged in – to build on the best of the 'here and now'.
Such inquiry helps to generate a dialogue about what we ought to be doing to tackle the many complex issues that we face and can help to promote better partnership working, leadership at all levels and participation in service co-design and evaluation.
We have an established track record of delivery of high quality, thoughtful and practical action research and consultancy projects.  We're interested in how to support individual, organisational and community level learning by building different types of action inquiry processes into ways of working and every day, 'live' practice.
Our perspectives are informed by our knowledge of health and social care, community development, regeneration, public participation, health improvement, co-production and community resilience.
From across this wide-ranging work, we are aware of the real practical challenges of embedding a new ethos of public service co-design and delivery that recognises existing capacities, involves people in decision-making about what is right for them, enhances their resilience, recognises the value of the expertise of both the staff and people that use services and encourages working together to find shared solutions.
We have expertise in group coaching and facilitation, social research and evaluation methodologies that can help to promote useful and high quality qualitative, quantitative and participatory research and evaluation, with a focus on learning.
We facilitate small and large group processes and help you to find ways to maximise the participation of key stakeholders, professionals and community members at all stages of the process.
"What struck me was the seamless flow of things…..it didn't seem like hard work, probably because we started off story telling, but also the hard thinking was there too.  The real engagement is invigorating."
We use and adapt innovative methods to draw on the rich experience and expertise already available within organisations and communities and to help people make sense for themselves of what each of them know, bringing in multiple perspectives to the inquiry process and testing wider resonance.